Sidebar
Collector Car Appreciation Day – Celebrated Across the USA on July 12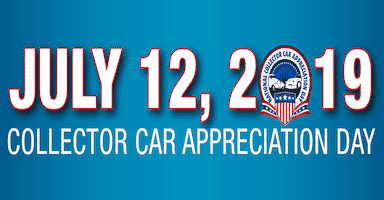 It all started back on May 4, 2010, when US Senators Jon Tester (D-MT) and Richard Burr (R-NC) introduced Resolution 513, designating July 9 of that year as Collector Car Appreciation Day. This bipartisan resolution was passed by the Senate without amendment. It recognizes, "that the collection and restoration of historic and classic cars is an important part of preserving the technological achievements and cultural heritage of the United States."
From that beginning, Collector Car Appreciation Day (CCAD) has grown into a nationwide annual event, celebrated by many thousands of car enthusiasts. Collector Car Appreciation Day 2019 recently officially took place on Friday, July 12. This was the 10 th consecutive Collector Car Appreciation Day.
A nationwide celebration of the heritage of the automobile
In commemoration of Collector Car Appreciation Day 2019, more than 100 separate events were held throughout the United States. These events were sponsored by automotive museums; car clubs; community groups; collector publications; car care and performance product manufacturers; restoration parts and classic car parts suppliers; auto parts retailers; and other commercial enterprises.
Here are a few Collector Car Appreciation Day 2019 highlights:
The AACA (Antique Automobile Club of America) Museum in Hershey, Pennsylvania provided free rides in vehicles from its collection

The Coachman Car Club of Ventura County, California held a CCAD car show with live music and entertainment. The proceeds of the event were donated to the non-profit Turning Point Foundation, which provides support to those in Ventura County with mental illnesses.

The National Automobile Museum in Reno, Nevada invited visitors to display their classic cars at the museum

The Classic Car and Truck Club of Beaufort, South Carolina held a Cruise-In on Lady's Island.
There were many other car shows, cars and coffee events, cruise-ins, parades, gatherings, auto museum special events, classic car parts and restoration parts swap meets, and grill-outs in celebration of Collector Car Appreciation Day 2019. There was even a Drive Your Classic Vehicle to Work Day in Newburgh, Indiana!
CCAD is a reminder to reaffirm our commitment to the collector car hobby
The automobile has an extremely significant place in the history of the United States. It helped us to venture far from our homes, exploring and building our lives on a coast-to-coast canvas. The car is responsible for our nationwide network of roads and highways, which take us anywhere we want to go, at any time of the day or night. The automobile industry also made cars affordable to the average person, giving us all the freedom to live, work, and travel where we choose. The automobile's history is truly a mirror of our own. Preserving this history reminds us of the importance of this rich heritage.
The most recent Collector Car Appreciation Day is a great opportunity for us to be mindful of the true reasons that we own and maintain collector cars. History, technology, style, nostalgia, and pride are all wrapped up in these vehicles that we love to look at, take care of, and drive. All of us at Collectors Auto Supply are here to support you, with the restoration parts, classic car parts, and expertise to keep your collector cars in great shape for a long time to come.