Posted by Collectors Auto Supply on Oct 27th 2020
Cars and trucks often have plenty of plastic in their interiors. After all, why not? Plastic is an inexpensive, lightweight, and durable material that can be used in car interiors in numerous ways.
As time goes by, though, the interior plastic in your vehicle will likely fade because of UV damage. Extreme summers or winters, harsh cleaning chemicals, exposure to smoke, spills—each of these can add to the damage.
This kind of fading can happen so gradually that you might not even notice. If you could compare that plastic to another piece of the same color, though, the damage may become quite clear.
So, what should you do?
Cleaning the Plastic
There are products on the market that can help to freshen up the appearance of the interior, from the dashboard to interior trim. They help to clean the grime off of the plastic, which can improve its appearance.
If going this route, some things to investigate include which of the cleaning products:
are shown to be effective
help to protect the interior from further UV damage
are reasonably easy to apply; watch for ones that might drip and possibly damage the interior fabric or other non-plastic materials
have a reasonably pleasant smell, rather than pungent chemical fumes
Each cleaner will come with its own instructions and it's recommended that they're precisely followed for best results. Instructions may, for example, recommend that you spray a small area of plastic and then wipe it dry with a microfiber towel. To loosen up more grime, you may be instructed to spray the plastic and then swirl a soft brush over the area before wiping it with the microfiber towel. If there are significant problems, a scrub pad might be recommended—but this can rub away even more color.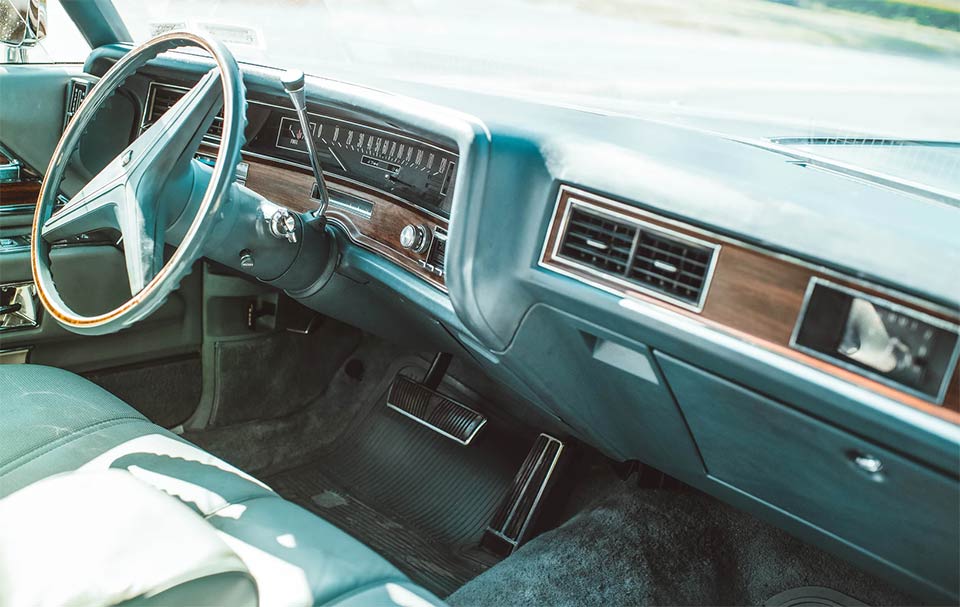 Using Dye/Paint
Interior plastic can have new color applied to it using a type of dye or paint specially formulated for this purpose. It can be much easier to match the color if your interior is black or white, and less so with other hues on the spectrum. As another option, you can contact a body shop to ask if they can custom mix a paint for your vehicle's interior.
If going this route, you'll first remove the parts to be painted from the vehicle. If kept inside, the paint will likely bleed over into places it's not wanted, including the windshield. Be careful when unscrewing the various parts, from door panels to armrests, because you don't want to force the removal and crack any of the plastic.
Once the pieces are removed, lightly sand them. Then, clean the parts with an appropriate product and then let dry. If you're not sure what products to use, you could ask someone at your local body shop. Fix any cracks, again with appropriate products—and then it's time to put on protective gloves and use the paint or dye. Typically, two coats will do. After you're sure the parts are dry, reinstall them in your vehicle in reverse order from how you took them out.
If you enjoy doing this kind of work and don't mind the mess, then cleaning and painting the faded parts may make sense to you. If that doesn't appeal to you, then replacing the parts can be a better plan. This may be especially wise if talking about vintage car parts or classic car auto parts.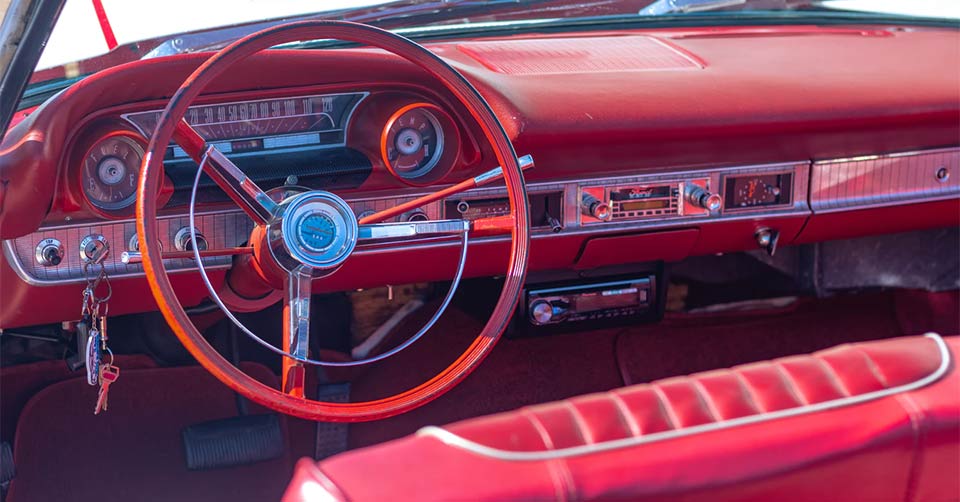 Replacing the Plastic Parts
Collectors Auto Supply was created to help car lovers like you find automobile restoration supplies, including replacement interior parts, you need to restore your vehicle. Founded in 1992—and fulfilling more than 100,000 customer transactions to date—we have the vintage and classic auto parts you need, available from nearly every make and model ever made.
To find the auto parts and supplies you need, you can:
Use our year/make/model vehicle search and we'll list every part that fits your vehicle.
Contact us for hard to get parts and we'll respond within 24 hours.
Call us! We totally get how you might prefer to just have a chat about what you need. So, call (800) 414-4462 during our business hours: Monday through Thursday, from 7 a.m. to 4 p.m., PST, or on Friday from 7 a.m. to noon, PST.
We remember when business was done with a handshake and we run our business in that same old-fashioned, friendly way. So, let us know how we can help you to find the auto parts supplies you need!