Sidebar
1996 Ford Bronco - Permanent Fix for Ignition
I have a lifted '96 Eddie Bauer FORD Bronco that I like to adventure with in Southern Utah. There they have extensive four wheel drive trails that can challenge any level of 4X4. Trails for All wheel drive Subaru's through Hard Core Rock Crawlers. Trails with intimidating names, "Hells Revenge" that start in the city of Moab, Utah. Who came up with the name "Moab" for a city anyway? "White Knuckle Hill" which I can only go down. Impossible to go up in any vehicle I own. And "Poison Spider Mesa" which is another challenge that is within my Bronco's ability. Every 4X4 trail that I have ever driven on in Utah has one thing in common, heat!
The temperature in Southern Utah around July 4th, popular vacation date, can be 110oF or 43oC. That's hot and it was shutting down my Bronco's ignition module stranding me in random places. 20 miles up the "Golden Needle" trail was one of my stranded locations. But the worst place my Bronco stranded me in was the middle of an intersection turning left in rush hour traffic in Salt Lake City. The engine shuts down and Melanie, my wife, is stuck in a traffic cross fire at 4:45 pm. She is frantically calling me for a rescue because the spare ignition module that we always kept as a spare in the door pocket was apparently fried. She can change out a FORD ignition module in under a minute at this point. Lots of practice.
The FORD ignition module in F150, F250, and Broncos of this vintage is located in the engine bay on the driver's left rear inner fender. It is bolted to an aluminum heat sink and the heat sink is bolted to the fender with 2 x 8mm head bolts. My first idea was to cool the module with a brake duct style tube coming off the air intake. Maybe a little effective but not a fix.
Then I moved the heat sink/module combination inside the grill on the driver's side. I did this by lengthening the wiring harness and routing it through the fender and around the radiator so the ignition module would be cooled with fresh air as we drove. That modification was very effective and it had the added bonus of access to the module in seconds when it burned out, but it would still burn out when it got hot in the summer. Melanie could unclip the whole assembly and clip in another through the grill and be back on the road in 10 seconds flat, including the shutdown and running to the front of the truck. Impressive! But she was a starting point guard for her High School.
After the "intersection at rush hour" incident I started searching for a permanent solution to this "vexing" problem. I was also wiping out the local wrecking yards of their supplies of FORD ignition modules every June and July. I did buy a lifetime warranty module but started feeling guilty when I came in for a replacement the 3rd time in a year. You guys are going to say, "why didn't you just fix what was burning out the modules"? Well, I could not find the problem. Then I replaced the basically new distributor with a brand new FORD unit. I also replaced the coil. I suspect that is why I got a good deal on the Bronco in the first place. But I, nor the mechanics that I knew, could find a short anywhere. So I gave up on that idea entirely.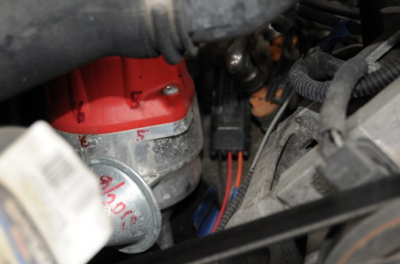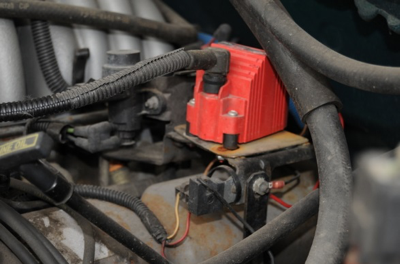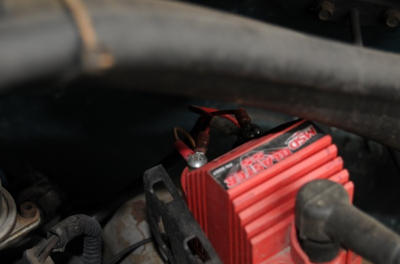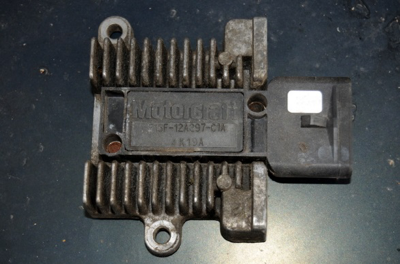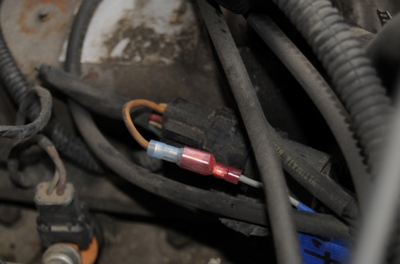 The fix was the installation of a "stand alone" distributor and coil. A "stand alone" distributor is a non-computer controlled distributor, like a points distributor. I chose the MSD Billet distributor that you can change the advance curve springs in. I had to go to the lightest springs MSD provided for the distributor anyway for the street. And with the lack of forced induction or nitrous, I did not need to retard the timing. Give me advance NOW! And it worked. I run the computer input off the distributor wire using a stock FORD plug I got from the wrecking yard, so I did not need to cut my harness. There were a couple extra wires on it that you don't need so I just taped them off. I use an MSD Blaster coil and I hook that up to the existing stock harness located in the same place that the FORD coil was located. I did need to drill two mounting holes in the FORD coil bracket to mount the MSD coil. Then I run the tachometer off the negative side of the coil and it WORKED.
There is no heat that I am now afraid of. There is no check engine light either BUT, you must leave a working ignition module installed to keep the check engine light off. To the writing of this how to, I have not burned out another ignition module and I have not been stranded for any reason. My wife loves me, and Moab is a destination adventure spot for me again.
This modification will work for any FORD truck that uses the black ignition module from 1992-1996. It might work for any FORD utilizing that ignition design.
Cheers
Randall Parker