People often think that the upholstery on a classic car is simply a decorative element, but in reality it does much more. The upholstery on your car can be a crucial factor in its safety rating and comfort level for you and your passengers. For these reasons, it's important to take care of your seats by maintaining them with regular cleaning and restoration.
1. Log Every Step of the Vintage Auto Reupholstery Project
You may be surprised to find that "Evaluate Your Needs" isn't the first step, but there's an important reason for that. Before you do anything else, prepare a means for documenting every choice you make and action you take.
A restoration journal is perfect for organizing your thoughts, recording your needs, and recalling your decisions. You should also take pictures and video often, and keep these stored in their own folder on your phone or computer.
2. Evaluate Your Classic Car Upholstery Restoration Needs
Before attempting any auto interior restoration project, it's vital that you educate yourself. Have resources available before beginning; videos are helpful but it is recommended that you have a copy of the car manual as well.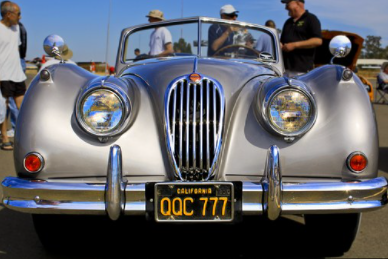 Is Your Classic Car a Show Car or for Everyday Use?
The needs of your reupholstery project will vary depending on the intended usage of your vintage automobile. Do you want it to be your main mode of transportation everyday, or do you just want to drive it to classic car shows? Perhaps you don't want to use it everyday, but you want to drive it to the beach some weekends.
Whatever you plan to use it for, it's important that you have a clear goal in mind before you start the project. If you haven't had your old car for long, consider putting a few hundred miles on the odometer before reupholstering the interior. This will give you the opportunity to discover any issues that need to be addressed before starting on the upholstery.
What's Your Budget for the Car Reupholstery Project?
When you have a car upholstery project, the most important thing is to figure out your budget. However, it's important to note that your budget includes not only money, but time as well.
Knowing your time and resource budget will help you to understand the extent of the work that can be done. It's important to consider how much time and money you're willing to spend, and to set a budget accordingly, so you can avoid going over your initial expectations.
3. Give Yourself Ample Time to Reupholster Your Old Car
Is your objective to have a beautifully reupholstered interior, or to be done quickly? It's entirely understandable that you may be initiating this project to have the car ready for an upcoming show, but if you want to complete your best work, you have to give yourself ample time.
When budgeting for time, it's recommended that you be liberal with your assessment. If you love your classic car, it's important that you give it the time and attention it deserves.
4. Don't Cut Corners with Vintage Car Reupholstery
Nevermind "square one," you should aim to start from square zero. You may be tempted to install automotive upholstery over existing foam, but this can cause more problems down the road.
If there's anything that can retain odor, like carpet, it should be removed from the beginning. This way, you'll prevent offensive smells – and another reupholstery project – later. To do this effectively, remove all vintage auto upholstery fabric and replace them with new padding and insulation.
5. Conserve Resources with a Classic Auto Upholstery Expert
One thing we like to ask here at Collectors Auto Supply is "what's your goal?" This may sound like a rehash of determining the intended usage of your vehicle, but there's more to it than that.
Is your goal to successfully restore the upholstery of your old car's interior? Because that objective is entirely different from "proving I can do everything myself." If you want to achieve the best results, it's important that you're honest about your experience and limitations, and that you are not afraid to get help when needed.
A reupholstery professional can save you time and money in the long run. Research to find the best ones for your needs and get estimates.
Once you've found the right one, it's important that you provide soft deadlines for them. Never push them into meeting a deadline if your goal is to get the best results possible.
At Collectors Auto Supply, we have a passion for classic car interior restoration. We understand it can be difficult finding the right experts and the best supplies. If you want more classic car upholstery restoration pro tips, reach out to our team today.